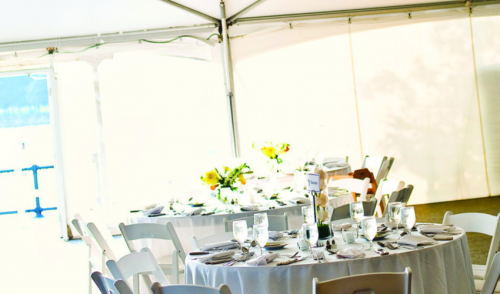 Even in areas with mild climates, winter can be an unpredictable season, and it seems that unpredictability always comes into play if you're planning an outdoor event. If you choose tents with sidewalls, however, it will be easy to adapt to the changing weather without disrupting your event.
About Sidewalls
Sidewalls, also called tent curtains, hang from the outer edges or eaves of tents to create a more enclosed space. They are typically clipped or buckled to the canopy, and some sidewalls may be able to be used with different canopy styles. The bottom edge may be attached to a frame or secured with stakes or a cable to keep it in place, depending on the sidewall style. Some sidewalls are solid, while others may have different openings and views, such as…
Mesh panels that could be opened or closed to provide air circulation
Plain, square transparent windows to allow light into the tent
Arched, cathedral-style windows to create a more elegant appearance
Large, rectangular clear panels that present a panoramic view and extra light
Most sidewalls are the full height of the tent, but others are half-sized to provide partial protection. Sidewalls are also available in different colors and patterns, and while white is the most common choice, some sidewalls are patterned to match the canopy's striping or other coloration.
Using Sidewalls for Your Winter Event
Just because winter has arrived does not mean it is impossible to use tents for your event, and sidewalls can make the event more comfortable and easier for you, your guests, and your vendors. Sidewalls provide a windbreak and keep snow and rain from getting into the tent. The barrier keeps heat inside the tent to keep everyone more comfortable, and will help keep the event area clean and dry. Sidewalls also help with event security, controlling crowds in and out of the tented area.
To make the most of using sidewalls for your winter event…
Arrange the tent orientation to take advantage of the best views. If the sidewalls include clear panels, you will want to ensure guests can see winter's beauty outside the tent, rather than just looking at a pile of plowed, dirty snow or other unappealing scene.
Secure sidewalls well to resist wind gusts. Most tents will be sturdy enough to resist typical winter weather, but if the area is extra breezy, using additional clips or clamps can ensure the sidewalls stay firmly in place.
Use an appropriate heater for the size of the tent space, and be sure there is adequate power to keep the heater running. A heater with a thermostat can be helpful to keep the temperature even and use power more efficiently.
Consider using fans to circulate the air inside the tent so warmer air that has risen to the top of the canopy will be moved about to provide better warmth closer to the floor. This will also help reduce stuffiness and keep guests more comfortable.
Add a floor to the tent to minimize heat loss to the ground and provide stable footing for guests. This will also help minimize mess from snow, ice, and slush. Different flooring options are available and can include carpets, dance floors, and runners as needed.
Add doors to the tent entrance to minimize heat loss from large gaps. Overlapping vertical panels can create a functional door, or a strip panel could be used to help keep heat from escaping from the larger tented area.
Consider connecting the tent to a nearby building using a tented corridor to preserve heat and provide a comfortable walkway for guests. This can help connect the event area to restrooms or other necessary facilities, such as a kitchen, storage, or staging area.
Add supplemental lighting to the tented area, as sidewalls will block a great deal of natural light. Chandeliers, twinkle lights, and other creative options can all add beautiful ambiance to the tent no matter that the outdoor light levels may be.
Consider having a separate coat storage area for guests to leave not only coats but also other outerwear, umbrellas, and winter items they will not need during the event. This will prevent clutter and congestion in the event area while still protecting guests' belongings.
Above all, remain alert during a winter tented event and have a backup plan in case the weather is too harsh for a tent to be effective. While sidewalls can make a winter event easy and comfortable, a severe storm or sudden cold snap could still create difficulties, and being prepared will ensure that your guests are safe, comfortable, and at ease no matter what the weather.